Announcement
UPSTARTS: Pandemic Pod
In This Episode:
A lot has happened since our last episode of Upstarts and with the entire world immersed in these strange and challenging times, we're taking a look back to when the pandemic first started to influence the work environment and how organizations and leadership are now navigating the "new normal." Whether it's the leveraging of remote and mobile technology solutions, or the reassertion of humanizing an organization's workforce, we'll hear from leadership on curating an authentic and successful approach to employee care.
About the Series:
It's time to breakdown, decode and uncover the world of construction through the eyes of WT Partnership. Introducing UPSTARTS: Inside The Consulting Business, a monthly feature covering a range of issues in the world of construction, major development and business culture at large. UPSTARTs looks at a unique group of technical advisors and industry experts who formed a new startup within a 70-year-old company. Learn more about the $1.76 Trillion Dollar Professional Services industry in the USA through shared thoughts, experiences, real work assignments and hard-fought lessons learned. #intrapreuner #startup #consulting #construction
The first annual Convention, Sports, and Entertainment Facilities Conference brought together over 600 industry and owner representatives to the Manchester Grand Hyatt in San Diego California this past May. WT participated as a co-chair sponsor and unveiled their partnership with Crawford Architects on the New Aloha Stadium Entertainment District Launch ("NASED") one of the first examples of a fully comprehensive social infrastructure Public Private Partnership ("P3") set to break ground in the United States.
Special thanks to:
Planning Branch Chief for the State of Hawaii Department of Accounting and General Services Chris Kinimaka, Aloha Deputy Stadium Manager Ryan Andrews, Stadium Authority Board of Directors Chairperson Ross Yamasaki, Crawford Architects Senior Principal and Part Owner Stacey Jones, WT's Adam Shaw, Nick Conte and Jake Witt.

Find out what's to come in the UPSTARTS series in 2019.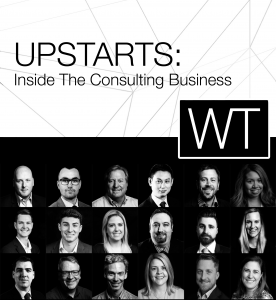 To be featured in a future episode of #UPSTARTS, contact: 
Jake Witt, Senior Program Manager
jake.witt@wtpartnership.co
+1 424.218.5333