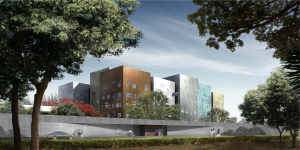 WTP provided full cost management for the Australian Department of Foreign Affairs and Trade (DFAT) record-breaking $415 million Embassy compound project.
During construction two records were broken. The Embassy became the most expensive project completed by the Australian Government overseas and the transplanting of four Banyon Trees made an entry into the Indonesian Guinness Book of Records.
The Embassy is the largest Commonwealth building outside of Australia and will showcase forward thinking design that considers the tectonic susceptibility of the region, incorporates environmental sustainability and features advanced security components.
The site is located in central Jakarta and provides office, residential and recreational accommodation for Australian Government departments including Foreign Affairs, Federal Police, Austrade, Customs, Attorney General and others.
You can read more about the Jakarta Australian Embassy project here.