Press Release
Commission builds on WT's growing presence in the region.
Oregon City, OR — Clackamas County has appointed WT Partnership (WT) to support its new courthouse replacement project.
Following a competitive solicitation process, WT has been retained by Clackamas County as P3 Technical Advisor for the new Clackamas County Courthouse Replacement Project. The services to be provided by WT include programmatic development and refinement through stakeholder engagement; cost estimating and value engineering; and development of performance-based design, construction, operations and maintenance criteria. The new courthouse is anticipated to be delivered under a design-build-finance-operate-maintain structure.
A NEW COURTHOUSE TO EFFECTIVELY AND SAFELY SERVE THE PUBLIC
The Clackamas County Courthouse is home to the Fifth Circuit Court of the Oregon Judicial Department. The existing courthouse, which was built in 1937 to house county offices and a single courtroom, has been retrofitted over the years to its present configuration of eleven courtrooms, however, further accommodation to meet the current demand for three additional courtrooms will not be possible. Due to the insufficient amount of space available in the building, many services in support of the courthouse are already located off-site, creating numerous operational inefficiencies. Additionally, the over 90-year-old facility requires significant seismic upgrading and is functionally obsolete for the administration and delivery of justice services. Once completed, the new courthouse is anticipated to be ready for occupancy in 2024.
WT IN THE REGION
With a significant service provision history in the Pacific Northwest, WT staff have been instrumental in supporting major civic building development projects in the region, such as the King County Courthouse replacement project, in addition to a vast array of work across the education, commercial, aviation and sports & entertainment sectors. With offices in Portland and Seattle, WT has established itself as a leader in the provision of consulting services in both markets, developing a strong local presence and committed corporate investment.
CONTINUED EXPERTISE
WT's growing portfolio of P3 and alternative project delivery experience, including the New Aloha Stadium Entertainment District P3, UTSA's National Security Collaboration Center and School of Data Sciences and the recently completed UC Merced 2020 Campus Expansion project, has provided WT with a depth of expertise and valuable lessons learned, which has benefitted their public sector clients.
"We applaud the significant amount of planning and effort that the County has taken over the last several years on the Courthouse Replacement Project and are thrilled to share our expertise and experience providing P3 Technical services with Clackamas County" remarked Tom Kness, Vice-President of WT's P3 Advisory Practice.
Seen by many as the world's largest emerging P3 market, the US is poised to increasingly utilize P3 to meet the country's need for infrastructure projects. WT's North American leadership sees the firm as well positioned to actively respond to this trend.
"Our national P3 team have continued to build out an enviable portfolio of technical advisory roles. I am confident the market will continue to demand more and more support to convert big ideas into bankable transactions – which is exactly what we do," according to Adam Shaw, WT North America Executive Vice-President.
WT ACTIVE TRANSACTIONS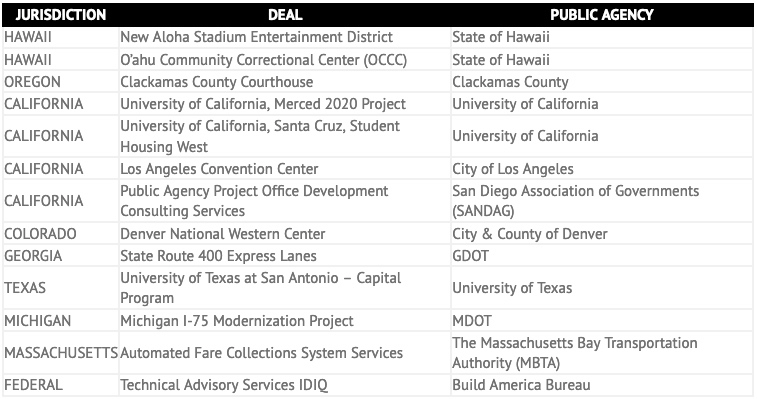 About WT:
WT Partnership is one of the fastest growing advisory firms in North America. Founded in Australia back in 1949, WT is known as the oldest start-up in the industry and has been a force in North America since 2010. A trusted advisor to Owners, Developers, Government and Private sector clients, WT currently manages $6.5 billion dollars of active mega projects across North America.
Media Contact:
Jake Witt, Senior Program Manager
jake.witt@wtpartnership.co
+1 424.218.5333